Did you know that Mason has been in the top 10 names of newborn boys for the past three years in the U.S., according to babynames.com?  The name is French in origin and means to lay either stone or brick.
Besides the name Mason being very popular, the object, The Mason Jar is one of the most used and understated items in peoples' homes.  If you haven't been paying attention to it you'd be amazed at all the functions this glass jar can have.  It is one of the most beloved items in my home not only because it's so practical but it is incredibly versatile, inexpensive and timeless.  Instead of tossing all of them in for recycling, save a few the next time you come across them and use them to get creative.
Here are a few of my favorites ideas:
A mason jar can easily be transformed into a more attractive container for salt.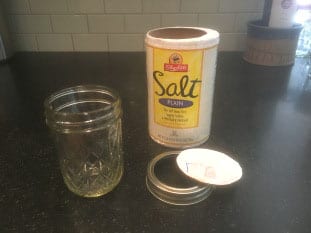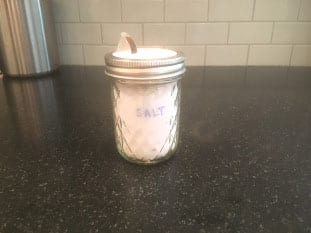 Ever have overnight oats for breakfast?
It's such a healthy, easy meal if you can muster up the 10 minutes to put it together the night before.  Here's a great beginner overnight oat recipe from http://glutenfreewithlb.com/maple-brown-sugar-cinnamon-overnight-oats/:
Maple, Brown Sugar and Cinnamon Overnight Oats (makes 2 servings):
Ingredients
2 c. rolled oats, gluten-free
1 t. vanilla
2 c. almond milk
3 T. brown sugar
¾ t. cinnamon
3 T. pure maple syrup
In two 10-12 oz. mason jars place half of the oats, vanilla and milk in each. Stir to mix well.
In a small bowl, combine brown sugar, cinnamon and maple syrup. Pour half of this mixture in each of the jars over the oats.
Refrigerate jars for at least 2 hours or overnight.
Serve with additional toppings if desired and enjoy!
When I'm invited to someone's home for an occasion I love to bring my favorite hostess gift of Curried Lentil Soup or Mason Jar Cookies.
Mason Jar Cookies:
1 t baking soda
1 t baking powder
¼ t salt
1 cup quick cooking oats
1 ¼ cup chocolate chips
½ cup brown sugar
½ cup sugar
Mix with 1 egg, ½ cup of softened butter and ½ teaspoon of vanilla.
Scoop into 1 inch balls
Bake at 350 for 8-10 minutes
Enjoy!
The list of things you can do with mason jars in endless.  Find a few ideas and put them into your creation rotation.
 Written by Jodi Aishton | Space Therapy Montclair LLC