OUR STORY
We offer cost effective
personalized storage solutions
for any space and any need.
For more than two decades, we have created cost effective personalized storage solutions from master suites to children's closets, pantries, laundry rooms and more. And for all those years, we have been doing this differently.  We are not a franchise based, cabinet-counting company pressured by corporate sales quotas.  We are your regional, owner operated business with an on-site woodshop and a big passion. Our passion is about your space being efficient, adaptable and comfortable: the ergonomics and lifestyle of storage.
Our first question at Ridgewood Closets is not 'how big is your space?'. We start with 'how big is your stuff?'. We care whether you wear a tie every day, need to arrange your shoe collection or find homes for a jumble of kids toys and crafts. We care because any storage solution has to start with what you own, what is precious to you.
And then we still don't ask 'how big is your space'. We want to know how you use your space, how you move around it, how often you need to access which stuff. Why? Because we are passionate about making space usable. We won't design you an expensive closet island if what you really need are more shelves and a place to sit down to put on your shoes.
Because our cabinetry is all made on-site, we can design solutions with your needs first, rather than selling you un-personalized, ready-made configurations.  And because we don't emphasize commissions, we won't sell you one drawer, one shelf, one tie rack more than you need.

Meet your regional, owner operated business with an on-site woodshop.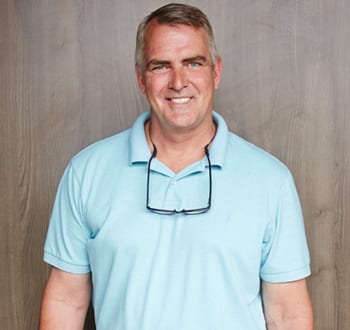 Peter Lesko
Owner
Peter Lesko, a craftsman by trade, has over 30 years' experience designing and installing custom cabinets. Peter took over full ownership of Ridgewood Closets ten years ago, investing thousands into new production and carpentry equipment. Ridgewood's wood shop is now one of the cutting edge closet manufacturing sites in New Jersey. Peter works with housing developers and building contractors right through to individual home-owners, always imparting his trademark ability to "see space differently'. He has also been seen on many HGTV shows and in magazines, showcasing his wide spectrum of knowledge and talents.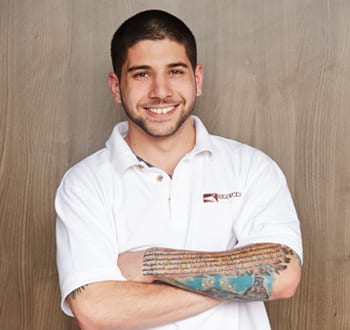 Matthew Ferraro
General Manager
Matt Ferraro has nearly five years experience designing, constructing and installing closets and storage at Ridgewood Closets. Peter and Matt have an intuitive partnership both making a contribution to estimates, designs, fabrication and installation, meaning they stay with a project from start to finish. Matt's passion is mastering the workshop's equipment to create all the precise and detailed component parts of the closets and units. There's nothing Matt likes more than a challenging project such as an unusual space or awkward shape.
Designers
If you are a designer or organizer and looking for additional work, we would love to speak with you. We are looking for part time sales representatives in Rockland, Westchester, NYC, Hudson, Fairfield, Hudson and Essex counties.
We will provide training on our process to design closets and showers and software to assist in the design, pricing and proposal process, brochures and specifications. We will pass on leads from our website in your area and help you grow your business.